Blasting Into the Past
The past 20 years have been a rewarding journey for FAITH Colleges. Amidst these unprecedented times in our lifetime, our community goes back in time to recall with fondness past celebrations of our foundation day. With gratitude and so much hope in our hearts, we look to the future with a strong resolve grounded on our conviction that the best years for FAITH are yet to come.
"Foundation day celebrations in pre-pandemic times were exciting and eventful for all. The students were very eager and happy to participate in the different activities even though they were tired due to the preparations made weeks before. Different departments had their own entry to the SHINDIG where the employees displayed their talents while wearing their beautiful outfits and colorful costumes as they strutted on stage. My favorite was when the Library Department created a photo exhibit that showed the history and development of FAITH Colleges that covered the ground breaking for our first building—Mabini Hall, the administration, pioneer employees and students, up to the most recent pictures. What do I miss the most? Seeing the students on the campus grounds proudly wearing their foundation day T-shirts, enjoying the fair booths and all the activities."
– Glaisa M. Redondo, SHLRC Librarian
"The 10th Foundation day was really a memorable one. The opening of the 12th NCAA-South coincided with the celebrations that added glamour and prestige to the Foundation Day celebration."
– Damialito O Arim, Sports Director
"As part of the Technical Committee, the MIS worked "behind the cameras" every Foundation Day, supporting all events—from departmental programs, concerts, and recently even esports. We see to it that every program ran smoothly to give students and parents the best experience possible.I remember the 10 th year of the foundation celebration best. That year was memorable to me since it was my first foundation experience at FAITH Colleges. That same year, FAITH was also hosting the NCAA-South Season 12 which made the event bigger and louder. It was also the first time I performed on stage together with my colleagues for the SHINDIG program. It was also the first time that we livestreamed and broadcasted an event online. I guess my team's favorite events were the concerts and the mobile games tournament. As we supported the events, we enjoyed it ,too. We sorely miss all these events. We hope and pray that this pandemic will be over soon so we can celebrate our Foundation Day the way we used to."
– Benison Sandoval, MIS Manager
"Celebrating the FAITH Colleges Foundation Day would always remind me of two words:
fellowship and gratitude. First is fellowship because all the fun games and activities that
showcased our talents gave us the precious chance to bond with our colleagues. Second is gratitude. I am very thankful that for 11 years starting from being a FAITH Colleges student and to being part of the institution as guidance coordinator, FAITH never failed to give me some of the best experiences of my life."
– Jane Aira Ramilo, Guidance Coordinator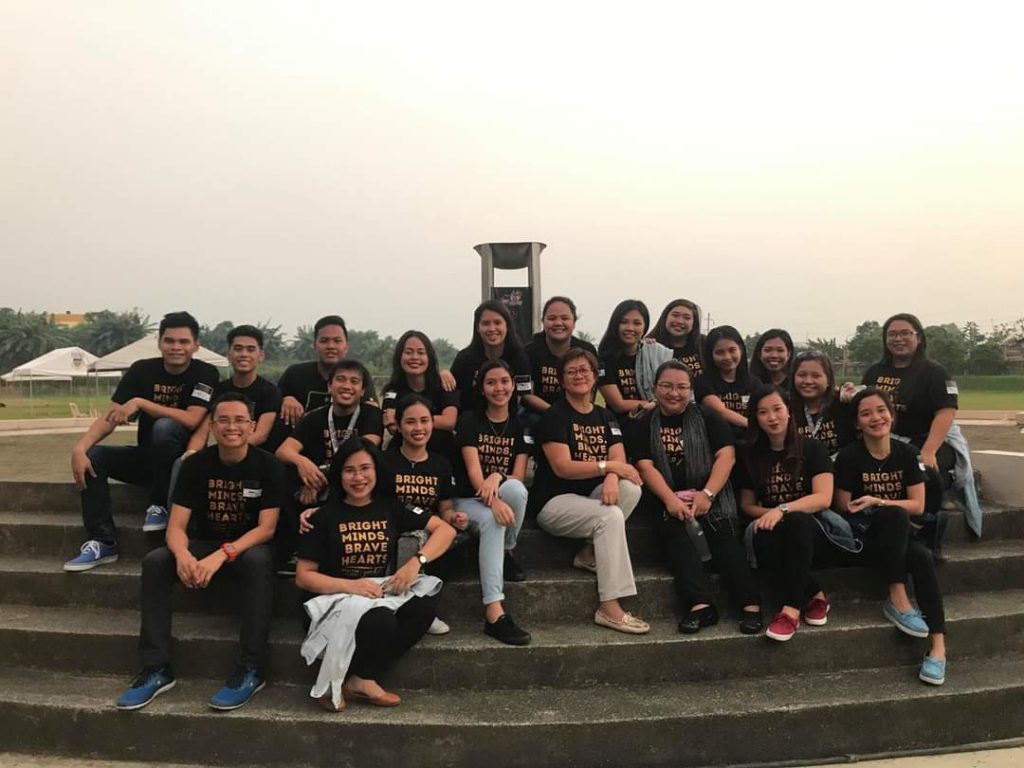 "Each Foundation Day celebration here at FAITH is a manifestation of the whole community's spirituality and strong love for Mama Mary (Mater Fidelium). Each year, the highlight of our week-long celebration was the celebration of the Holy Mass every 8th of September. On those days, families gathered in the field and sat in circles to attend the Mass as a small praying community since the covered court was already overflowing. Each year, the Holy Mass gathered the entire FAITH community in thanksgiving, as we all look forward to celebrating as one big FAITH Family."
– Anthony James P. Mendoza, Campus Ministry and ASEAN Residence Head
"September is audit period. Because of the nature of our work, our department would be working most of the time while the entire community participated in the activities throughout the week-long celebration. But while we mostly stayed in front of our computers, we still felt the vibes of the different activities, specially when we would hear the excited screams coming from the gymnasium. After work, we'd stay until late night to watch the amazing shows. I also miss the booths with different food choices."
– John Henry F. Refran, Accountant
"Mommy, miss ko na po 'yong bonding natin sa FAITH campus during past Foundation Sunday celebrations," words from my child Angel. I do share her sentiments both as a parent and as an employee. After attending the Mass, we would watch the shows. What we loved most was our bonding during lunchtime. Iikutin namin ang buong campus. Tapos, hahanap kami ng spot where we can eat our lunch together. We miss the fresh air, the gardens, the College Promenade."
– Ohlie Macatangay, FAITH Catholic School parent
"I'd say the Shindig will always be memorable. The Shindig happens every three years and
showcased the talents of faculty members and administrative staff. It was the time where we took a break from our regular work and showed our students that we too, have talent other than teaching and doing administrative work. Shindig 2016 will always be special to me because it was the first time I experienced the feeling of having long, blonde hair. Seriously though, what I loved best about Shindig was that it was an activity for a cause. The proceeds from selling tickets to the Shindig went to the Bato-Balani Foundation."
– Jaime J. David IV, ME, Physical Plant Administraton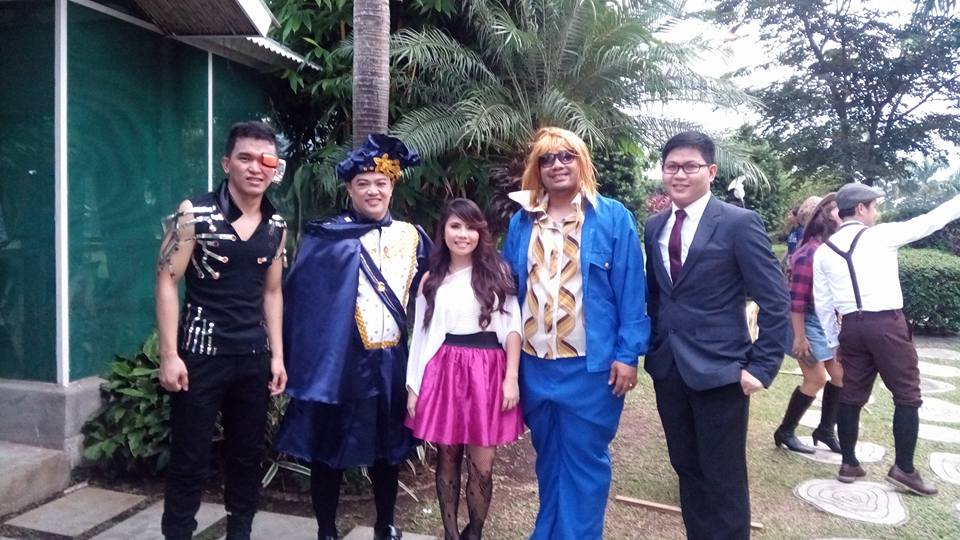 How I remember our foundation day celebrations in the pre-pandemic times
By Angelika Malabuyo, BSIE
During my five years of study at FAITH Colleges, I can describe all the Foundation Day
Celebrations that I have attended as both festive and hectic. I can still vividly recall how crazy and loud the entire community gets whenever it is our foundation celebration week. It was as if our school grounds would turn into something like Coachella. Every year, the celebrations get better and bigger. I believe the game-changer here was the fact that the entire community committed to intensifying our founding anniversary celebrations. As our school grew each year, we grew as well as a community. It is hard to say which was the best part of every celebration. But the Shindig, which only happens every three years, was a must go-to not just for the students but more so for the alumni. Seeing the Institution's faculty and administrative staff enjoying themselves while performing and entertaining the community was such as sight to see. Believe me, every Shindig that I attended were all top tiers. It must be included in every Braveheart's Top 10 Foundation Day Moments.
Aside from the main events like the World of Dance (WOD), Rave/After Party Concerts, etc., we had the Picnic Lunch per college. We played games, usually per block section. The main event was the buffet. This is on my favorite list because this gave us the chance to bond and know more our brothers and sisters from the other year levels. I think the college picnic lunches were what powered the 11-year winning streak of Thurbligz as champions of the BravEvolution.
What I missed the most are the vibe and the entire community itself. I miss the competitive atmosphere during World of Dance (WOD); the cramming weeks or days before the main event due to last minute changes in production or choreography; and the celebratory vibe that you get from everybody. I miss it. I miss FAITH Colleges so much.
What are my cannot-forget moments? All bits of it!
By Nicole R. Austria, BSN-4
Our Foundation Day celebration used to be the most-awaited event of the entire year. I could still vividly remember how lively, fun, and enjoyable this week-long celebrations were during the pre-pandemic time. This were the times when almost all classrooms were empty as we all gathered in the gymnasium where the celebration was held with a blast.
Every year, there were different sets of activities and competitions that we truly enjoyed and valued. I remember the band concerts, dance competitions (Step-Up), the Search for Mr. and Ms. Bravehearts, ASEAN, Shindig, and the class picnic lunch.
Certainly, the last two are my favorites. I truly consider myself very lucky as I got to witness through the Shindig how talented my college professors were. I would definitely never forget how great they were on stage. I was too mesmerized to the point that I almost tripped over the crowd while I was cheering actively and shouting at the top of my lungs. I cannot also forget the picnic where my classmates and I got to share lunch boodle fight-style with the visiting Japanese students from the Tokyo Medical University. The whole duration of the picnic lunch was filled with light talks and heartwarming smiles and at that very moment, it dawned upon me that the foundation week was not just for the commemoration of the founding of the school but is also for the celebration of camaraderie, love, and friendship. With that, I am certain that all foundation celebrations that I experienced ever since my senior high school days until mycollege years at FAITH are treasures that will forever be embedded in my heart. And if I am to be asked what I miss the most about the foundation celebration, my answer would be, "All bits of it."
Exceptionally memorable days of entertainment and fellowship
By Jillian B. Lansangan, BSMLS-4
As our dearest alma mater commemorated its 21st Founding Anniversary, we are humbly reminded not only of its mission, charism, heritage, and founding story but also its unwavering commitment to respond to today's reality. However, due to the ongoing global health crisis, this celebration was conducted online for the second time around. It is unfortunate to again miss out on all the fun and thrilling festivities usually held on the loud and crowded school grounds. This certainly sparks a feeling of nostalgia, especially in old students like me as wonderful memories of the past celebrations come flooding into my mind.
FAITH Colleges' Foundation Day celebrations were marked with various activities for students, institutional partners, alumni, parents, and other members of the community. The dance competitions, e-tournaments, concerts, musical performances, initiation rites, picnic lunches, and many more showcased the unity and togetherness of First Asians. If asked to choose the main highlight of the celebration, I would definitely pick the World of Dance Competition. Dancing has always been my passion. This kind of art freely allows me to express myself in ways that words never could. Being able to participate in this competition for two consecutive years was such an unforgettable and delightful experience. Aside from being able to do what I love most, I was also able to meet amazing people from other courses and build unexpected friendships.
Second would be the Frosh Initiation Rites. Personally, I consider this as one of the best moments in my college life. It was such a cordial, extra fun, exciting, yet messy way of welcoming the new members of the FAITH community. It felt like an extraordinary rite of passage for an individual to be officially considered as a Braveheart.
The Tertiary School Acquaintance Party 2019 would secure the third spot. This is special as this was one of our first activities as newly-elected FAITH Student Council officers. As a student leader and organizer, nothing warms my heart more than witnessing my fellow students express their happiness and satisfaction over the event.
Over the years, the commemoration of the institution's founding celebration has provided exceptionally memorable days of entertainment and fellowship. This annual milestone represents the school's unrelenting passion and initiative to maintain a meaningful presence in the lives of its students and surrounding communities while sustaining excellence. Undeniably, this is an event that a First Asian cannot afford to miss. I sincerely wish for the end of the pandemic so we may finally stop longing and reminiscing and start going back to the old ways.
Alaala ng mga Setyembreng Nagdaan
Mula sa panulat ng bumubuo ng Registrar's Office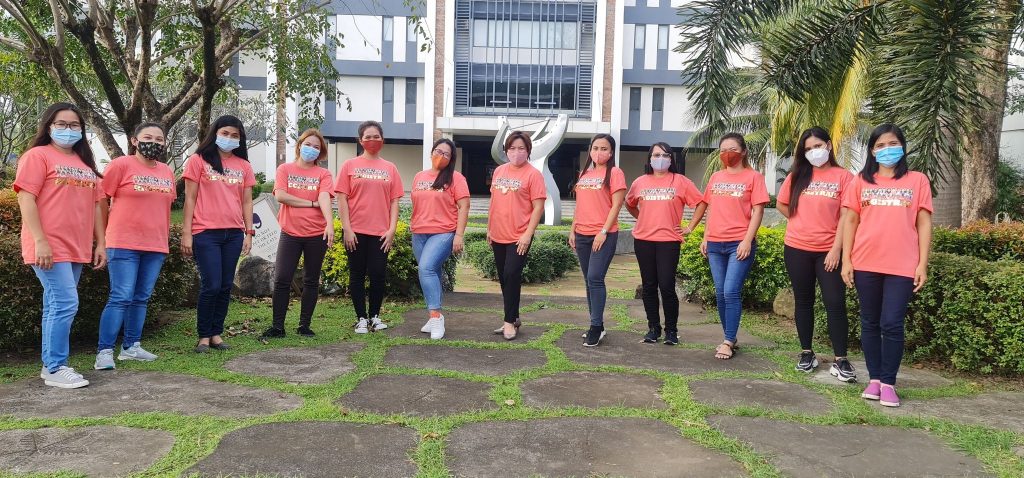 Pagsapit ng Setyembre aming inaabangan
Tarpaulin na nagsabit sa aming paaralan
Kanya-kanyang sukat ng t-shirt
Ang dating ay pang malakasan
Bawat tema ng tao'y makikitang pinaghahadaan
Bawat departamento'y may surpresang inaabangan
Tin-man, nasaan ka
Lahat ay nais magpapicture
Kahit ang init ng araw ay di alinatana,
Pinaghandaan madaling araw pa lamang
Paradang inaabangan ng balana
Shindig ay kapanapanabik
Saan ka pa'y sa pag-indak ni teacher ay sabik
Ika nga ng estudyante'y, panahon na makabawi at sa tuwa'y humahagikhik…
Ultimong magulang excited na masyado
Makita lang ang anak umindak sa entablado
Hindi magkamayaw pagkuha ng litrato
Walang pakialam lumuhod man o masiko,
Halu-halo sa field demo
Mga tsikiting kanya kanya ang istilo
May basta nakatayo, may umiiyak sa dulo
Ang iba nama'y kung umindak ay todo-todo
Dito rin makikita angking galing ng mga bata,
Paligsahan sa pag indak ng bawat baitang ay makikita
Lumalabas pagkamalikhain sa mga proyekto ay ibinida
Minsan pa nga sa telebisyon ay nakita
Masayang balikan bawat taong nagdaan
Masayang alalahanin mga bagay na ginampanan
Dalawang taong walang ganap
Pagdiriwang ng Foundation Day ngayon ay isang pangarap.