WHEN the government announced the community lockdowns on 17 March 2020, Philippine schools were forced to shift to alternative modes of delivery as face-to-face classes were abandoned for health and safety concerns.
Today, for the second straight year, campuses remain empty as students continue to learn remotely from home—either online, or through self-learning modules.
Clearly, the pandemic drastically changed the concept of traditional education where being present in a brick-and-mortar classroom is no longer the only learning system, giving rise to a new breed of teachers and learners.
Amidst a scenario where most schools, teachers, students, and even parents continue to struggle, the question that begs to be asked is: How is learning in the age of the pandemic?
Bichronous online learning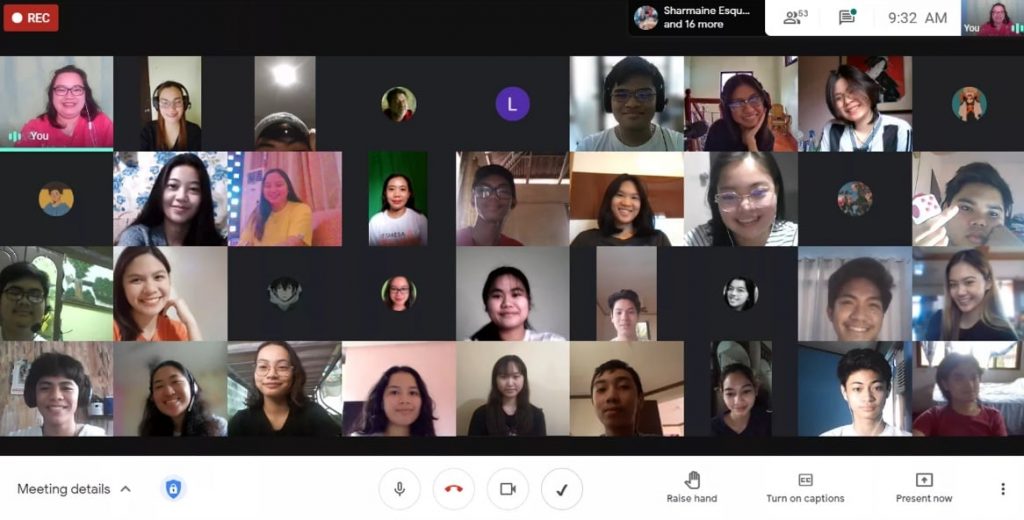 Years ahead of its time, FAITH Colleges has been practicing blended learning—an approach that puts together traditional face-to-face method with online learning elements. For FAITH Colleges' basic education schools, they use the learning management system (LMS) called GENYO. In the past, this system proved to be especially useful when physical classes were suspended due to typhoons, for example. But its real and full efficacy was tested when Taal Volcano erupted in January 2020. With both teachers and students kept at home, classes were able to continue using this online LMS.
And then the global pandemic happened and challenged our normal. FAITH Colleges immediately shifted to what could now be called bichronous online learning—the seamless blending of synchronous and asynchronous learning——from preschool, K-to-12, all the way up to graduate studies.
Believing in how important a teacher's presence is, the school's new normal objective is to make sure that students do not lose out on precious classroom time. Hence, students and teachers meet in the virtual space for regular classes three times a week for an average of five hours a day. The rest of the week—the asynchronous part—is devoted to performance tasks, research, self-paced learning but still all under the supervision and guidance of the teacher.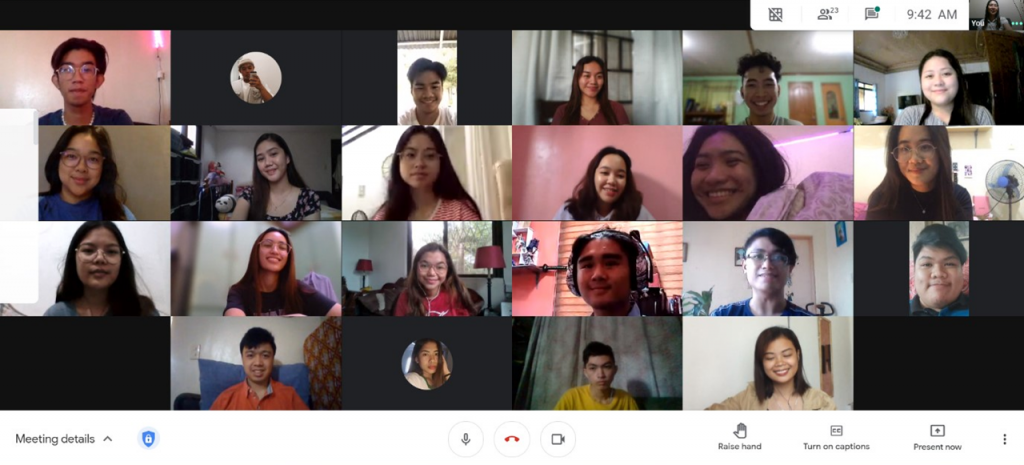 FAITH Colleges' online learning system allows students to remotely access the laboratory computers and licensed software. This also enables the teachers to monitor their students while doing lab activities and guide them as they go along.
Senior high school student Francine Heart Aguinaldo shares: "The style of online learning at Fidelis Senior High is very effective for the student's learning. We have synchronous classes that allow us to interact with our subject teachers and to ask questions if we're having a hard time keeping up with the subject. Our asynchronous classes, on the other hand, are spent on completing activities and answering our worksheets under the guidance of our teachers."
Learning together
Dr. Jerrylyn Magbuo, faculty member of the College of Education, says "Teaching is like sailing. You have to adjust the sail based on the conditions of the sea." When the pandemic hit, she likened the teaching-learning process to a boat in the middle of the ocean, flipped over. "It wasn't just a rough sea because every method and strategy I had been using in my classes (and that I worked hard to master) did not automatically fit into the new current. The conditions did get tougher. (At first) it felt like I was not getting past big waves.
"Teachers were forced to the limit: it was either we morphed or stayed ashore. I told myself that the longer it takes for me to accept this change, the slower I get to learn the drift." She relates that she felt more pressure "since the College of Education is expected to have better alternatives, to switch easier, and to lead the sail." Late night zoom coffee meetings became a regular to the COED faculty, as well as other colleges, as they discovered new apps, platforms, tricks, and hacks—learning together as friends and as co-teachers. "I believe this is key to how we were able to adjust faster—a strong teacher community at FAITH Colleges," Dr. Magbuo affirms.
College of Arts and Sciences Program Coordinator Ma. Liannor Chua says that since the pandemic started, their teaching goals became more challenging, citing the fact that there is a thin line between home duties and school work. Nevertheless, she has learned to be flexible, understanding, and lenient. "This became an opportunity for us to think of innovative ways to improve the learning experience of each student. Instead of having the usual daily discussions, I start my classes with mind games, or Kahoot gameplay to ease the students' mood. The smiles on their faces during our simple games make my heart full and encourage me to keep going in this journey of teaching."
For Fidelis Senior High teacher Neil Vincent Catapang, he says that "the change pushed me to be innovative, more creative in teaching, and value more the significance of the teacher-student relationship." Rosette Anne Moreno, also a Fidelis Senior High teacher, chimes in: "The old strategies just don't work anymore. The pandemic taught me to be more understanding of the situation of my students, to be more patient. Now more than ever, my priority is to give my students an enjoyable learning experience."
Change management through communication
With entire classes held in the virtual space, communication between and among parents, teachers, and students is now top priority. The institution is thankful to its educators for working beyond their call of duty to engage, explain, connect, and monitor students and send text messages, chats, do calls, and send emails to parents to make sure that they monitor their children's progress.
16 years of solid online experience
According to principal Arnold Catapang of the Basic Education Schools, one of the bright sides of this pandemic is that it pushes the capabilities of an institution in terms of infrastructure, resources, training, and development. He says that since FAITH Colleges has been delivering online learning for more than 16 years now, the faculty members have a solid experience in online learning. They write, design, and create their own content. And while they are adept in conducting online classes and are comfortable with new technology, they are now focused on bridging the physical gap.
Dr. Magbuo agrees that establishing clear and open communication among students and teachers is vital. Checking up on students, asking how they are doing, spending more time virtually with them after classes are necessary to get to know them. "We cannot teach without knowing who our learners are, so consultation hours are extended especially for learners who are on printed modalities. We find ways to stay connected with the students. For example, professors are utilizing Tiktok and Twitter in lectures and assessments, learning hashtags and trends, creating GCs and rooms, and exploring IGs just to stay updated and relatable to students."
Sustainable interaction
Meanwhile, teachers Maria Carmina Perez and Florence Robles both view the current system in a positive light. They say they are able to create a stronger bond with their students even without the benefit of in-person interaction. Both of them confirm that they find fulfillment in the time they spend with their students guiding them through the many challenges of online learning.
STEM student Glydle Faderanga admits it was not easy attending her first online class way back in Grade 11. She says that she is more at ease now, and is grateful to her teachers. "I appreciate our teachers for their understanding. More than a teacher, I see them as friends that I can trust and talk to. There's this one time I had a personal problem and one of my teachers told me that she was willing to listen to me and that she's rooting for me. I can't fully express how I felt but she made me so happy by just saying that."
True online learning guaranteed
Preschool teacher Ms. Catherine Umali shares that games, recitation, and vlogging work perfectly well for her preschoolers. "What does not work is the long period of online class for kids. We have to compress the lesson to just one hour each day."
As a pre-school teacher, Teacher Catherine says that they must put in more effort when teaching online. "I made my lessons simpler. But my teaching strategies are more engaging and enjoyable not just for my pupils but for the parents as well because they are the ones who guide their children in doing the activities at home."
Basic education parent Cherry Tesorero says, "I am very satisfied with the online learning style of FAITH. I can see how my child is enjoying her studies even if it is limited to virtual learning. Also, I observed that her teachers are all good in interacting with their young pupils, especially during activities. With this, I now have more confidence in virtual learning."
Parent Roxy Mallillin Olan attests, "I see my daughter Sofie enjoying her classes every day! Inspite of the new medium of learning, I am really happy with the way the kids are being taught, and with the attention given to each of them. In these formative years, it is really important that the kids learn the concepts clearly. And though I was initially apprehensive about the school's online learning system, I am very satisfied with the results! My daughter now completes most of her homework in reading, writing, coloring, and drawing on her own with no help from me. I was surprised to see that she is comfortable with it! Thanks to FAITH COLLEGES and the teachers for making the best of this situation."
Keeping the FAITH
Rose Ann Platon, a BSE English student says that the abrupt shift in the educational setup gave rise to some doubts about an online learning setup. "Thanks to the organized and well-planned online learning setup that we have her in FAITH, I came to appreciate the merits of a properly implemented online learning system. As a student and as a future educator, I realized that the current situation is paving the way to discover new literacies, new methods and strategies in teaching and learning, new technological materials, applications and platforms. And these are the things that I shall be bringing with me when I become a full-fledged teacher myself."
"Beyond the knowledge and dedication a school can offer especially in these trying times, compassion is much vital," says BSE Math student Roi Vincent Montenegro. "Students nowadays need someone who understands them rather than someone who would bombard them with work and deadlines. That is what I highly appreciate with FAITH. They are student-oriented. They live up to the core value of compassion."
STEM student Concepcion Moira Mijares has her hopes high. "Having welcoming teachers and students feel rewarding. It helps me to adjust faster. And now I realize that this new normal is worth trying. If online learning in FAITH is worthwhile, what more if it becomes face-to-face learning? I am sure that when we are allowed to go back to the campus, the experience of in-person learning will be an astonishing journey that every Braveheart is looking forward to."
The mission of FAITH Colleges is to overcome the learning crisis brought about by the pandemic we are all facing. The challenge today is to reduce as much as possible the negative impact this pandemic will have on schooling, and build on this experience to get back on a path of faster improvement in learning. FAITH Colleges' response is to responsibly harness technology to close the gap in opportunities, and balance this with human touch to ensure that students are given the same chances for quality education in a world now defined as the better normal.

With additional report from Edison Manalo.