Since its groundbreaking in 2000 and its formal opening in 2001, FAITH Colleges has contributed much not only to the City of Tanauan, but also to the entire CALABARZON region opening new doors and immense opportunities for its students and its community. Here, we travel through time as we look back to the last 20 Foundation Day celebrations, and the milestones for each year.
2000. Groundbreaking for First Asia Institute of Technology and Humanities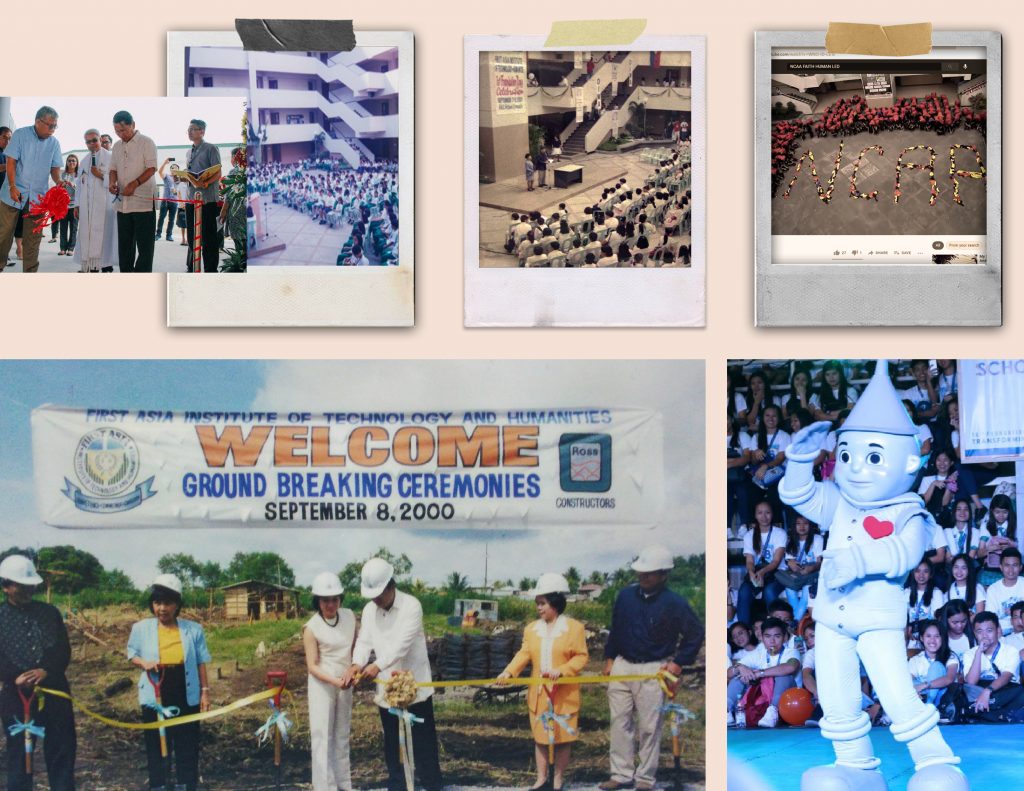 2001. Technology with a Heart.
Inauguration of the Mabini Hall, the very first building inside the FAITH Colleges campus
The Commission on Higher Education (CHED) grants FAITH to offer eight degree courses: BS Accountancy, BS Hotel and Restaurant Management, BS Computer Science, BA Psychology and BS Electronics and Communications Engineering, BS Commerce, BS Industrial Engineering, and BS Information Technology.
2002. Our School Is Our Home.
FAITH offers five new courses: BS Nursing, Bachelor in Elementary Education, Bachelor in Secondary Education, BS Information Systems, and BS Communication Arts
FAITH hosts the 1st North Batangas Summit on 19 January 2002, the forerunner of the current Batangas Development Summit
2003. Ad Astra First Asia!
Inauguration of the Multipurpose Covered Court
FAITH is overall champion in the 2nd Philippine Robotics Olympiad
FAITH launches the CALABARZON College Scholarship Program
Pioneers online learning using a fully digital Learning Management System
2004. A Touch of Blue and Green.
Inauguration of the FAITH Total Child Prep School building
FAITH is overall champion in the 3rd Philippine Robotics Olympiad.
FAITH Unified School integrates technology in its high school classrooms with the GENYO Learning Management System.
Awarded as Best E-learning Management Implementer in CALABARZON
2005. The Tin Man Turns Five.
Inauguration of the Administration Building
FAITH graduates its first batch of learners with a total of 54 students from four courses in April 2005.
The FAITH robotics team wins the 4th Philippine Robotics Olympiad.
Guillermo Luz, commencement speaker
2006. Our Community: Living and Learning Together
The Garden House opens
FAITH becomes the first Philippine World Champion as its bags the Championship in the World Robot Olympiad High School Open Category in Nanning, China.
Romantic Piano Concerto with Reynaldo G. Reyes and Dr. Ingrid Sala Santamaria
Francis Kong, commencement speaker
2007. FAITH: The Heart of the Community
Blessing of FAITH's School Chapel, the Chapel of Mater Fidelium on 06 August 2007.
The Archbishop of Lipa His Excellency Most Reverend Ramon C. Arguelles D.D decreed the recognition of the FAITH Unified School as a third degree Catholic school on 06 August 2007.
Blessing of the FAITH Catholic School Building
Created and organized the region-wide United Collegiate Championship League (UCCL)
Dr. Rosalinda Fuentes, commencement speaker
2008. From Eight to Infinity
FAITH opens the FAITH Student Residence Halls (formerly ASEAN Residences) FAITH organizes the first Batangas Robotics Event in April
The College of Public Safety Building opens
FAITH hosts the 1st Calabarzon-Mimaropa Youth Leadership Learning Adventure.
National Artist for Literature F. Sionil Jose at FAITH delivers a lecture on "The Role of Literature in Shaping the Future of One's Nation" in October 2008.
Dr. Milwilda Guevarra, commencement speaker
2009. Nine Years. Three Stars. One Dream.
FAITH College of Nursing graduate Sarah Beth Bendoy becomes the first ever Board Topnotcher of FAITH, ranking 4th in the November 2009 Nursing Licensure examination.
FAITH bags Anvil and Gold Quill Awards for its book "The Heart of Education." The book chronicles FAITH's first seven years as an academic institution.
The Gallery opens
Jose P. Leviste Jr., commencement speaker
2010. Proudly First Asian
BS Psychology and BS Business Administration programs receive PACUCOA Level 1 Accreditation
FAITH produces second Nursing Board Topnotcher
FAITH becomes a member of the Catholic Educational Association of the Philippines (CEAP)
FAITH hosts NCAA-South Season 12
FAITH acquires Limapark Hotel as its practice school for its College of International Hospitality Management
Victoria Garchitorena, commencement speaker
2011. FAITH Colleges opens the three-level Multiversity Library
BS Information Technology and BS Computer Science programs receive PACUCOA Level 1 Accreditation
FAITH opens new 3-level library
Writer and historian Ambeth R. Ocampo and artist-poet Virgilio S. Almario deliver talks for FAITH students
FAITH students bag Catholic Mass Media Awards for their entry in the Student Television Public Service Ad category
Thank You Teachers Season 1
Atty. Ruel V. Canobas, commencement speaker
2012. One Heart. One FAITH.
DepED recognizes FAITH with Outstanding Stakeholder Award
FAITH produces its 3rd third Nursing Board Topnotcher
FAITH Catholic School students win in Asia International Math Olympiad in Hong Kong and in China Southeast Mathematics Olympiad
FAITH hosts Philippine Collegiate Champions League (PCCL) Sweet 16 National Basketball Finals and is awarded Best Host
FAITH Industry Partners Recognition
Virgilio S. Almario, commencement speaker
2013. The Year of FAITH. Our School. Our Time.
BS Psychology and BS Business Administration programs receive PACUCOA Level 2 Reaccredited Status
Prof. Tomas Lopez, Jr, commencement speaker
2014. Labing-apat na Taon. Isang Puso't Isang Layon.
FAITH pioneers Senior High School in CALABARZON with the opening of the Fidelis Senior High, the Higher School Network of FAITH
Early implementer of Senior High School in 2014 and was recognized by the DepED for its successful implementation of the ICT track which graduated Senior High learners who were employed by industry
The College of Public Safety is ranked Top 12 criminology school in the Philippines
FAITH leads Mabini@150, donates larger-than-life bronze statue of Apolinario Mabini to the people of Tanauan City
Partners Appreciation Day (PAD)
Atty. Arthur P. Tugade, commencement speaker
2015. IMAGINOVATION: Imagination + Innovation
Computer Science & Information Technology Programs receive PACUCOA Level 2 Reaccredited Status
FAITH is no. 35 among 227 schools in the Top Philippine Universities ranking based on weighted board exams ranking, and No. 2 in Batangas
Brainsparks (www.brainsparks.ph) is a startup and innovation hub founded by First Asia Institute of Technology and Humanities (FAITH), in partnership with First Asia Venture Capital Incorporated (First Asia).
FAITH campus gets ultrafast bandwidth connection, providing students with unlimited Wi-Fi access
Innovation hub and business incubator BrainSparks hatches
FAITH forms the Marian Orchard FAITH Association (MOFA) as it partners with Marian Orchard founder Larry Katigbak. This development further enhances the strong Catholic foundation of FAITH. Establishment of the Marian Orchard FAITH Foundation Inc. in 2015
FAITH is the first and currently the only school in Region IV-A to be given the permit by DepED to offer all tracks of senior high school
The Citywalk Building opens
Dr. Benardo M. Villegas, commencement speaker
2016. Let's Keep the Flame Ablaze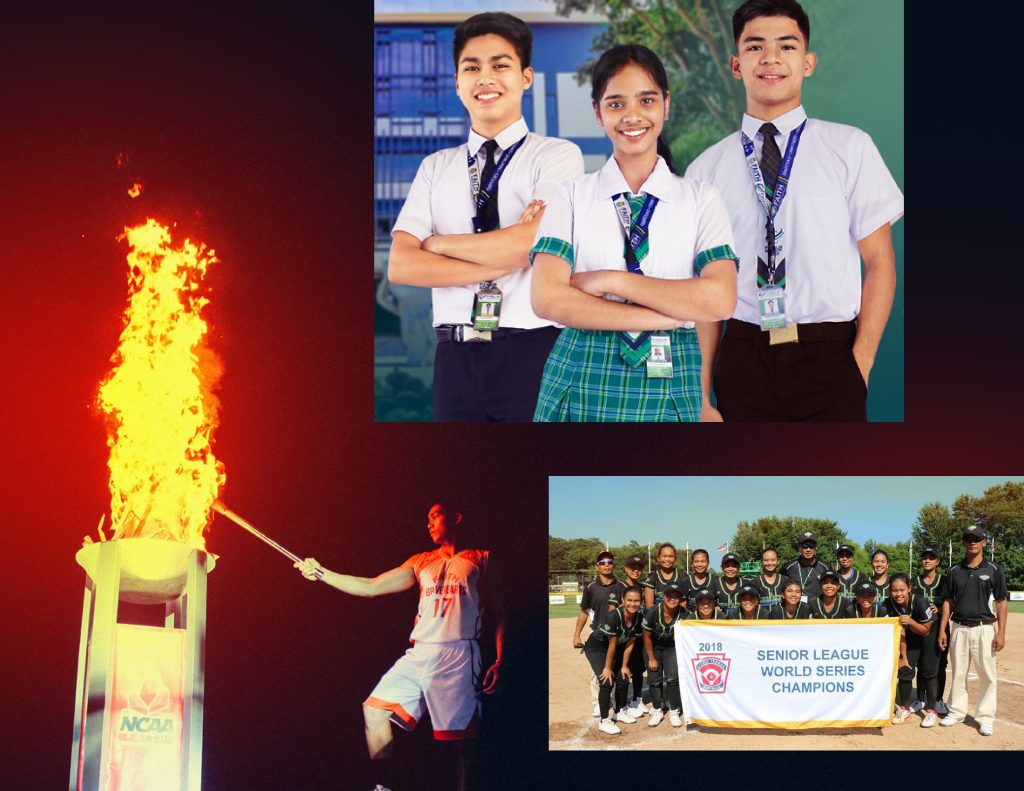 SHS Class of 2016. FAITH Colleges holds its graduation for the SHS pioneer class
Hosted the NCAA-South Season 18
Gave the country its very first drone light and sound show
The ISAAC Foodcourt and Performing Arts Studio become operational
Regina Paz L. Lopez, commencement speaker
2017. Bright Minds, Brave Hearts
SHS Class of 2017
Space Lounge is inaugurated. It serves as the main cafeteria for FAITH Colleges' Tertiary and Senior High School students.
FAITH Colleges opened its state-of-the-art four-storey building Nuspace Center to house the growing FAITH Academic Community and other offices.
Philippine Vice President Maria Leonor Robredo, commencement speaker
2018. Transforming Ourselves
In May 2018, Archbishop of Lipa His Excellency Gilbert Garcera leads the blessing of Nuspace Center.
World Champion of Senior League Softball World Series 2018 for the Tanauan Softbelles; and Royevel Palma in SEA Games as part of the Philippine Blu Girls youngest pitcher)
Establishment of the School of Graduate Studies
Co-organizer of the 437th Foundation Day of the Province of Batangas celebration
Leonida B. Sigua-Calagui, CESO III, commencement speaker
2019. Transforming Our World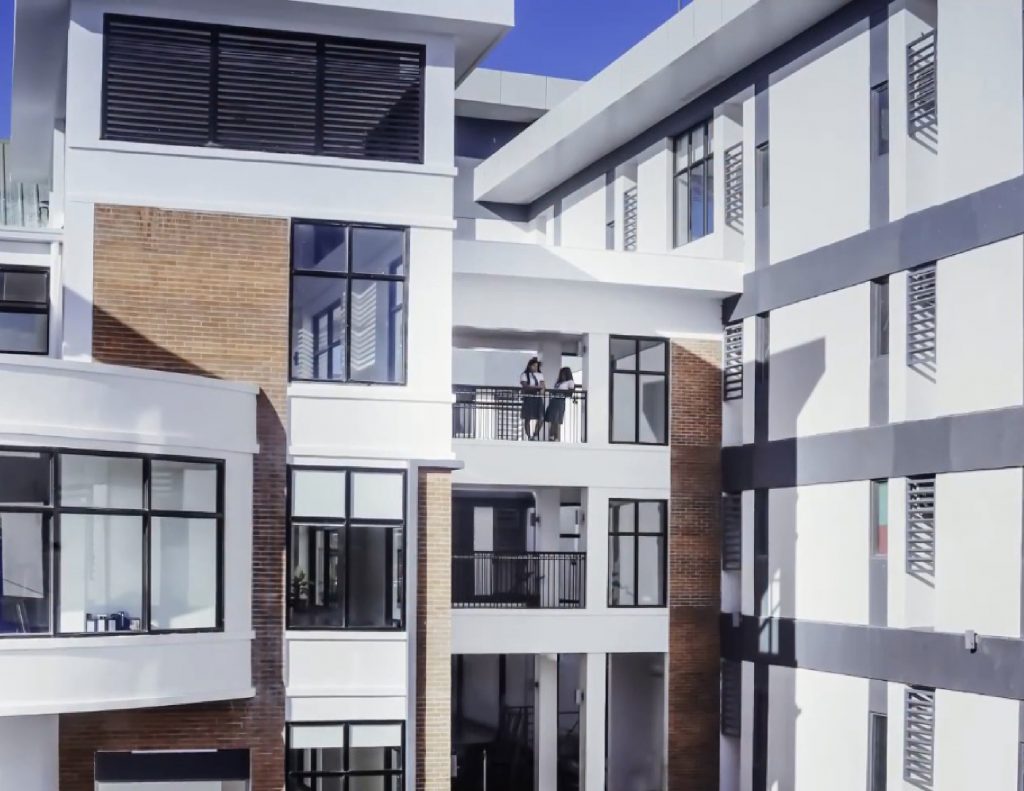 First in Batangas to be DepED accredited for Home Study Program in 2019
ASEAN Convergence Secondary Schools Summit
The bridgeway between the Administration building and Nuspace Center opens
Dr. Raymundo P. Arcega, commencement speaker
Co-organizer of the 438th Foundation Day of the Province of Batangas celebration
2020. Transforming Ourselves. Transforming Our World.
This was the turning point when the twin events of the Taal Volcano eruption and the global COVID-19 pandemic changed our lives forever.
FAITH Colleges mobilizes its corporate social responsibility arm—FACES, FAITH Center for Extension Services—to extend help to its community (employees, students, parents, adopted communities)
The College of computer and Information Technology (CCIT) creates the Bakwit Finder app during the Taal Volcano eruption of 2020
FAITH Colleges expands its scholarship and educational grant programs. Notable is the Tulong Taal sa Mag-aaral
The FAITH Botanic Gardens Foundation Inc is established
The FAITH Arts and Science Foundation Inc is established
Co-organizer of the 439th Foundation Day of the Province of Batangas celebration
The year 2020 was a year of many firsts
FAITH Colleges holds its very first series of webinars on health, safety, security, and academic plans for S.Y. 2020-2021
FAITH Colleges goes fully online, from Preschool to College
FAITH Colleges stages its very first virtual graduation
Virtual Thank You Teachers Season 10 with DepED
FAITH Colleges goes full throttle into Esports, bringing international recognition as Team Bravehearts becomes the first collegiate Esports team to win in the ASEAN finals—2020 PVP Esports Mobile Legends Bang Bang ASEAN Campus Championship held in December 2020