The role of education
Education plays a key role in helping empower people find their reason for living. Its purpose is to bring to fulfillment all the potential each student has. The word "education" is derived form two Latin verbs—educere and educare. Educere refers to all actions related to providing values that lead a person's full development; educare, to the action of extracting from the person that he can give of himself. Education is thus both a process of giving—infusing a person with knowledge and truths—and of taking—getting the best out of every person.
Good education should liberate and empower people. It should give them freedom that, as the Catechism of the Catholic Church emphasizes, "is the power, rooted in reason and will, to act or not to act, to do this or that, and so perform deliberate actions on one's own responsibility. By free will one shapes one's own life. Human freedom is a force for growth and maturity in truth and goodness."
Much of today's formal education focuses on the development of students' intellectual faculties and skills, often neglecting the development of their will and conscience. The environment we live in today readily speaks of the effects of such focus on education. While the formation of young people is clearly the responsibility of families, it is an area that education in schools should not overlook. And this is what FAITH Colleges seeks to balance—technology and humanities as the twin hearts of an education that every student should have.

The heart of equity

Equity in society can not be achieved without equity in education. This is the starting point by which opportunities are opened for the less privileged members of society. Cognizant of this, FAITH Colleges has undertaken several initiatives that seek to provide such opportunities.
The help extended are in the form of scholarships and various financial assistance programs. "Being a FAITH scholar is both a privilege and responsibility. My FAITH education equipped me with essential life skills which prepared me for the real life, especially for my job right now. Being a FAITH scholar also helped me augment my family's financial needs. Shaped by FAITH's kind of education, I always tell my students to develop in themselves the passion for pursuing excellence at all times," says Ronnel Ropa, graduate of Bachelor of Secondary Education Class 2015. Ronnel is currently a full-fledged professional licensed teacher.
For his part, Charles Carl Catapang, who now works as a head nurse after graduating from BS Nursing in 2010, shares, "My scholarship helped me achieve my dream of becoming a nurse someday. Today, I am working on the frontlines as a full-fledged registered nurse. With my education as a scholar, I was shaped to become competent, committed, and compassionate—the very values that I exercise as I care for our patients."
Ronnel and Charles are two among the thousands of young people who have received the gift of education. Since 2006 up until 2020, more than 10,000 students have been given institutional scholarships and grants coming from the generous benefactors of FAITH Colleges.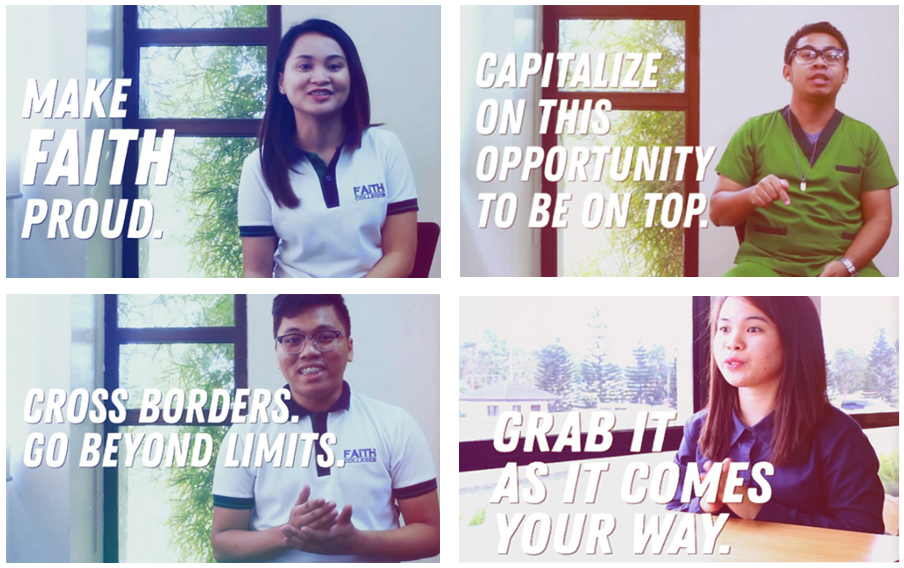 Transforming "I Want to Be" into reality
Before schools opened in 2020, uncertainty and fear among many parents and students ran high. After all, the year had been undeniably difficult as families struggled over financial issues and job cuts as a result of a pandemic that has paralyzed economies around the globe. Deeply-ingrained as it is in the Filipino culture, education remains important and will always take precedence over other needs, even in the most difficult times.
So students can continue with their schooling, FAITH Colleges found ways to help ease the burden of parents and students by expanding its program to include more scholarships, study grants, student assistantships, and Study-Now-Pay-Later (SNPL) solutions.
The School President Endowment Fund
To commemorate the installation of Dr. Brian L. Belen as the new president of FAITH Colleges, and to celebrate Mr. Saturnino G. Belen's 20-year tenure as the institution's first president, the School shall be establishing the School President Endowment Fund under the FAITH Arts and Science Foundation Inc. This endowment is envisioned to provide academic financial assistance to undergraduate students of FAITH Colleges. To jumpstart this initiative, Mr. Belen will be making a substantial donation to the Endowment Fund.
For the coming academic year 2021-2022, students can look forward to continuing their SNPL, this time under the endowment fund program. Through this, students will only start paying their interest-free loans a year after graduation. This will give them enough time to seek jobs, to which FAITH Colleges offers a strong job placement assistance program.
How will the program be sustained to ensure the continuity for the next generation of learners? FAITH Colleges executive vice president Juan P. Lozano said that students must diligently pay off their monthly dues. He explained that all payments will go back to the endowment fund. He also said that the foundation will "be actively seeking benefactor partners and will also be working closely with the members of the FAITH Colleges community to grow the fund so it becomes self-sustaining."
Erikka Ann Libang, Bachelor of Elementary Education Class 2014, now proudly works as a grade school teacher. She encourages all aspiring FAITH students and scholars to "put the lessons that you will learn here into good use. Be not only the hope of our society, but also the very fulfillment of this hope. You have the power to make change possible to reshape our nation into an impressive one. I wish you non-stop success in the future. And make FAITH proud."
And this is what education is all about. To inspire positive, lasting changes that will impact the lives of generations to come.
Want to know more on how to become a Program Partner? Our Institutional Relations and Development Office would be more than glad to discuss the program with you. Send us an email at IRDO@firstasia.edu.ph.